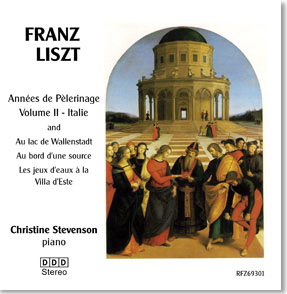 Recordings
Christine Stevenson's recording of Liszt's Années de Pèlerinage - Italie is now available!
Recorded at Potton Hall in Suffolk, UK, it includes the electrifying 'Dante' Sonata - Liszt's musical
re-interpretation of Dante's journey from Hell to Paradise, as well as pieces inspired by Sposalizio - the painting by Raphael, Il Penseroso - the sculpture by Michelangelo, three love sonnets by Petrarch, and the jaunty Canzonetta del Salvator Rosa.
The evocative water pieces from Années de Pèlerinage I and III are also included -
Au lac de Wallenstadt, Au bord d'une source, and Les jeux d'eaux à la Villa d'Este.
Reviews -
'...Stevenson's scrupulous observation of the subtlest indications in Liszt's score, combined with a heightened sensitivity to his voice-leading, allows her to point up many details that often go unnoticed. Sposalizio and Il Penseroso...have cohesion and sweep, everywhere tinged with poetry... Stevenson's passionately eloquent approach to the three Petrarch Sonnets is especially persuasive. In all three, she displays a fine feel for the melodies' Italianate inflections, while realizing all the implications of their rich harmonic underpinning. The delicately fluid tempi rubati seem to grow organically from Petrarch's texts.
Stevenson's technique is equal to the formidable demands of Apres une Lecture de Dante... Here as elsewhere, Stevenson's interpretative choices seem entirely her own... this Dante is always thoughtful, proportionate, and never less than effective...her artistic execution and the strength of her musical ideas...her noble interpretation of the Jeux d'eaux a la Villa d'Este...'
Patrick Rucker, Fanfare Magazine (Jan/Feb 2012)
'...The piano seems to bubble a limitless fluid energy... Stevenson applies a lustily scintillating series of colours to her keyboard palette most gratifying... Piano sound excellently engineered by Adam Binks makes for Liszt fervently rendered.'
Gary Lemco, Audiophile Audition ****
RFZ Classics 69301
Buy via Paypal - price: £12.50 including P&P
In the USA - available via CDBaby
Downloads from iTunes and all good download stores.
---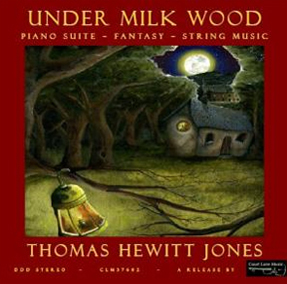 Christine Stevenson's recording of piano solo and chamber music by award-winning British composer Thomas Hewitt Jones is now available from HMV, Amazon, Crotchet and Presto in the UK - or CDBaby in the USA. It's on iTunes and in all good download stores.
CLM37602
Buy from HMV
Buy from Amazon
Buy from Crotchet
Buy from Presto Classical
Buy from CD Baby
Buy from iTunes
Reviews
'... characterful and beautiful - almost too beautiful ... Four Piano Miniatures, sensitively played by Christine Stevenson ...' Classical Music Magazine, 30 January 2010 ****
'...supple lyrical style and modal harmonic language works well in creating shifting moods and atmospheres...Hewitt Jones creates convincing musical mise-en-scène in such portrait pieces as "Summer Evening" and "Distant Memory" - the latter benefiting enormously from an expressive performance on cello from the composer himself ... nuanced textures and luminous lyricism...' Gramophone Magazine, August 2010